Go Back
Collaborative Leadership Training Overview
There are two sides to the leadership equation, the ontological side and the operational side.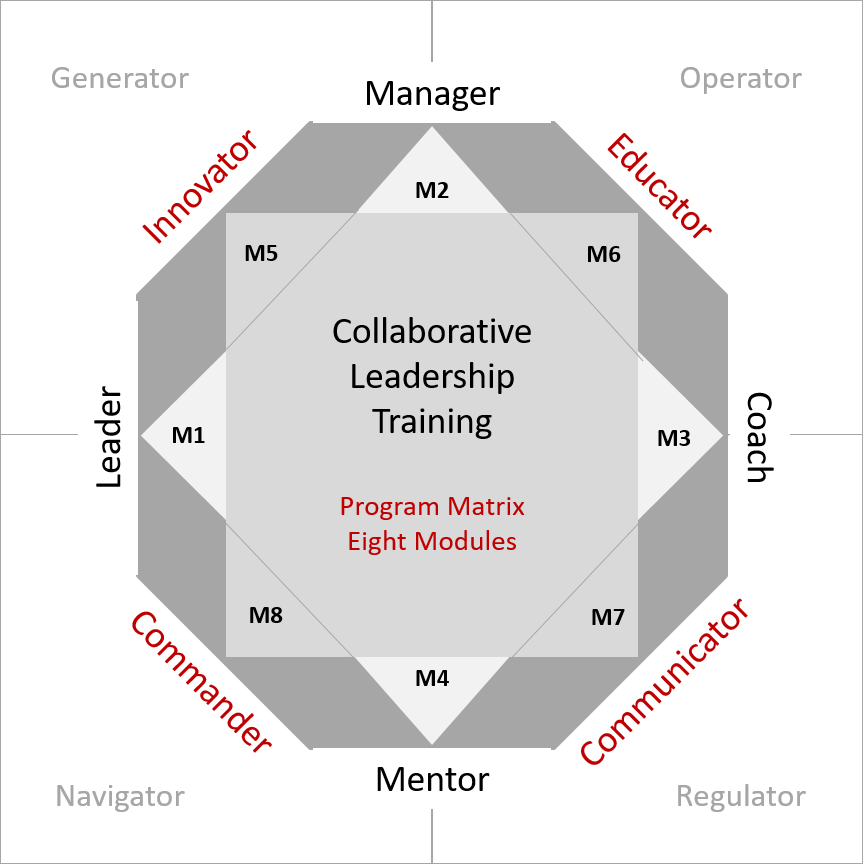 There are four quadrants that define functional zones of activity. These four are Generator, Operator, Regulator and Navigator.
There are two sides to the leadership equation. One is the ontological side (in black) in which a leader becomes skilled at dealing with who people are being and leading them to change their actions which changes their results. The other is the operational side (in red) where the leader guides people in their interactions with the world around them.
Ontological Skills – Leading People To Build Strength Within Themselves
Module 1: Leader – Inspires people to rally to a cause
Module 2: Manager – Ensures that promises made are promises kept
Module 3: Coach – Brings out the brilliance of people
Module 4: Mentor – Shows others how things are done
Operational Skills – Leading People To Be Effective In Their World
Module 5: Innovator – Innovates new ways of doing things

Module 6: Educator – Imparts knowledge that elevates people's value

Module 7: Communicator – Aligns people around a shared message

Module 8: Commander – Demands people take extraordinary actions
Detailed Look At The Two Sides of Leadership
The eight modules are called eSeminars. They are divided into two sets of four called eCourses.
The first eCourse deals with the inner person and the second eCourse deals with a person's outer expression.
Every eSeminar Module is available as a solo online subscription. This subscription can be enhanced with virtual collaboration, private live online coaching, group live online ePrograms and onsite training. Each eSeminar Module contains six components that cover Principles, 3 Practices, Process and Performance. Any of these six components can be taken as a stand-alone eWorkshop. The duration of the subscriptions and support formats is determined by the material, an eProgram consultation and the availability of both subscriber and support people. Everyone has their own unique way of learning and our eProgram configuration consultants will work with you to determine the scope, pace and level of detail that will fit your style.
Working With People From the Inside Out
The first eCourse contains four eSeminars which focus on digging into and working with the inner person.
Working With People From the Outside In
The second eCourse contains four eSeminars which focus on digging into and working with the outer expression of a person.
Collaborative Leadership Program Results
Efficiency – Effectiveness – Empowerment – Enjoyment – Ease
Managers and team leaders must risk shifting their priority away from operational challenges and solutions so they can refocus their attention on dealing in the more ontological issues of being.
Managers and team leaders must then take responsibility for knowing which aspects of leadership must be applied and when to apply them based on who a person is being and not just what they are doing.
Managers and team leaders are already fully capable of dealing at this level because the principles, practices, processes and performance measures are based on natural skills they already have.
Managers and team leaders who follow this program precisely will discover routes and pathways that they may never have connected with before.
Managers and team leaders will achieve a level of charismatic leadership that has the power to bring out the best from within themselves, put that best to work effectively, rally people to a cause and be recognized as the source of the success of others thereby achieving levels of performance they would never achieve on their own.
Give us a call!
We will have a private conversation with you about where you stand currently in your selling game.
Then we will explore in detail where you would like to take that game in the future.
This way we can determine how we might help you make that happen.
Get Started